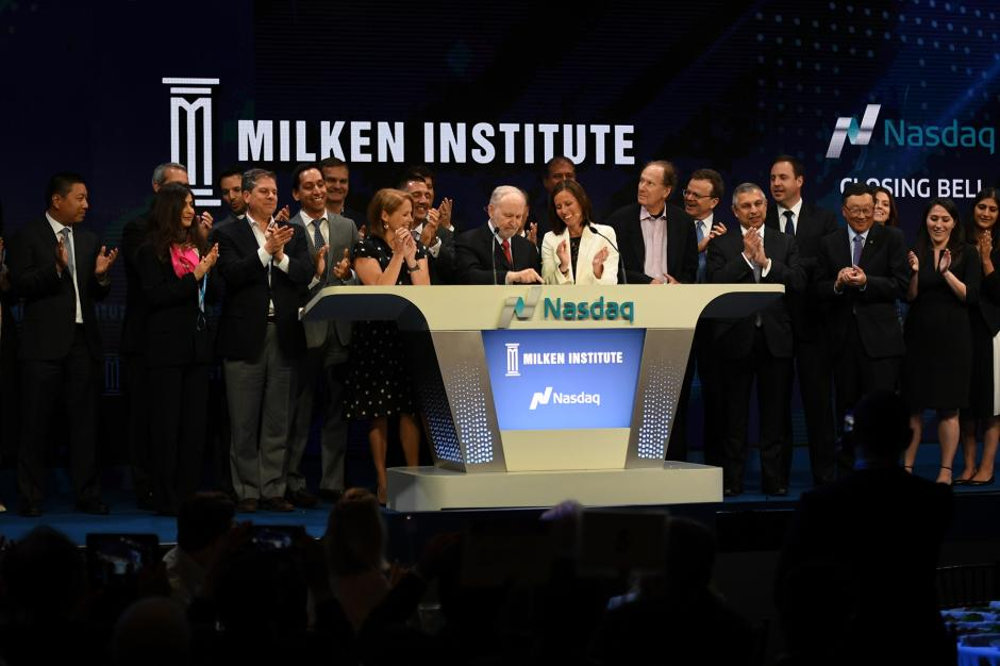 [Institute Chairman Michael Milken on Building Meaningful Lives. Photograph from www.milkeninstitute.org]
The Milken Institute Global Conference—an event that has been referred to by The Wall Street Journal as "Davos with palm trees"—is one of the world's foremost gathering spots for global leaders from finance, government, healthcare, education, and technology. The attendees this year included world leaders like George W. Bush, Joe Biden, Tony Blair, and Steve Mnuchin; titans of finance including Leon Black, David Bonderman, and Bill Gross; technology icons including Yuri Milner, Eric Schmidt, and John Chambers; and superstars like Buzz Aldrin, JJ Abrams, Jon Favreau, and Chris Rock.
My colleague Tom Hyland and I are honoured to have had the recent privilege of speaking at this august gathering a second time each, on topics that are close to our hearts and our life's work.
In his talk, Tom spoke eloquently on how large pools of capital can go about "Addressing Global Challenges with Investment Dollars" and touched upon the current state of play in impact investing. At Aspada, we provide capital and help build companies that create "access" to underserved market segments. Specifically those that build the foundational layer of basic services (such as high-quality affordable education and healthcare), or that create access to credit and to markets (including loans for small businesses and the creation of trade routes for small-scale farmers and merchants), among other investment themes.
Although not a new concept, impact investing is entering a golden age as evidenced by the fact that the topic was revisited multiple times during the conference. Whether it is large asset allocators, such as pension funds, endowments, and sovereign wealth funds, or younger earners and savers looking to invest for the first time, there is an increased demand for capital to act as more than just a source of funds. These investors now feel the need to understand the use of proceeds and their impact on society at large, whether that is through ESG (environmental, social, and governance) reporting or more in-depth impact investing frameworks.
However, with increased investor interest comes an inherent problem as to where and how to deploy that capital, and it is the impact funds that are best situated to capitalise on the significant future growth that a market like India presents. By and large, the spaces that impact funds have traditionally invested in (microfinance, healthcare, agriculture, and education) will be the growth stories that all investors, whether impact focused or not, will need to capitalise on if they are to participate in India's significant trajectory over the next 30 years.
You can watch Tom talk about this here:
I then had the privilege of speaking about how the IndiaStack, a series of public digital platforms built on top of Aadhaar, will play a pivotal role in transforming access to capital for those Indians that need it the most. India's household debt to GDP ratio stands at 9%—three times lower than that of China (38%) [source: Mckinsey Global Institute – Debt and (not much) Deleveraging, February 2015]. This isn't because Indians have an aversion to debt. In fact, it's quite the opposite.
More than half of India's consumer debt is from informal sources. The lack of access to formal credit can be attributed to two major factors: A perceived lack of creditworthiness, and the high cost of acquiring low-ticket-size customers. The data trails built by digital transactions on Unified Payments Interface (UPI) will help solve the first issue. Instant KYC enabled by eKYC, coupled with low cost of document management enabled by the Digital Locker will address the second challenge. Together, India is poised to embark on the greatest financial inclusion journey the world has ever seen. See more here:
Building real businesses that create real value for what Haresh Chawla called "India two" in this fabulous article takes time. In our notes on last year's conference we spoke about the need for a patient multi-billion dollar impact fund to invest in the "backbone" of India's economy. Thirty percent of per capita consumption in India is accounted for by food and agriculture. It seems a bit obvious, but you'd be surprised at how often it's overlooked in global conversations on investing in India. In all the TechCrunch-y hype about artificial intelligence (AI), Machine Learning, and self-driving cars, we have a propensity to mortgage the mundanity of the present, in the hope of a future where technology solves all our problems.
And when it's a conference attended primarily by large investors in developed markets, this tendency is often exacerbated. But in the midst of the din, some truly singular ideas from exceptional people stuck with me.
Michael Milken's passion for fighting cancer through investments in research: His story is fascinating and one that begins with a stratospheric rise to the top of the US financial markets where he developed high-yield bonds (now known as "junk bonds") in the 1980s. This innovation made him a billionaire and he would later in life emerge to dedicate his life to philanthropic pursuits, notably in cancer research. A cancer survivor himself, Milken has been a key figure in galvanising support for the cause, and his conversation with Joe Biden, who lost his son to brain cancer, was one of the most moving sessions of the entire conference. It truly reinforced the idea that large and tough problems require extraordinary persistence and resources. Watch them discuss this here:
Eric Schmidt and Pedro Domingos on the Future of Work: To me, the most insightful idea from the conference came from Schmidt. He very plainly said that if we had to invest in just one idea for a huge business going forward it would be in "crowdsourced expertise to teach AI to replace those very same experts". One compelling example of this is how getting radiologists to diagnose x-rays and MRI scans on a mass scale would eventually generate enough data to teach a neural network. This network could then carry out the task faster and more accurately than the same experts that fed the system that data. This principle could be applied to multiple fields, leading to a democratisation of expertise. We've recently met a few startups working on the problem, and the brainpower we've come across in India alone leads us to believe that the future is near. You can see the talk here:
Other interesting conversations include an interview with former US President George W. Bush, who pleasantly surprised me with his gentle humour and folksy wisdom, that can be found here:
And here's a conversation with Dr. Ernest Moniz, the former United States Secretary of Energy, who's words of wisdom on climate change should serve as a reminder to us all about the urgency of climate change:
The Milken Conference is an extraordinary occasion—a confluence of exceptional people, discussing bold ideas. And while some of them might seem far removed from the day-to-day realities of India, I don't think the day is too far away, when the leapfrog innovations that India is building as we speak, will take centre-stage in such discussions.