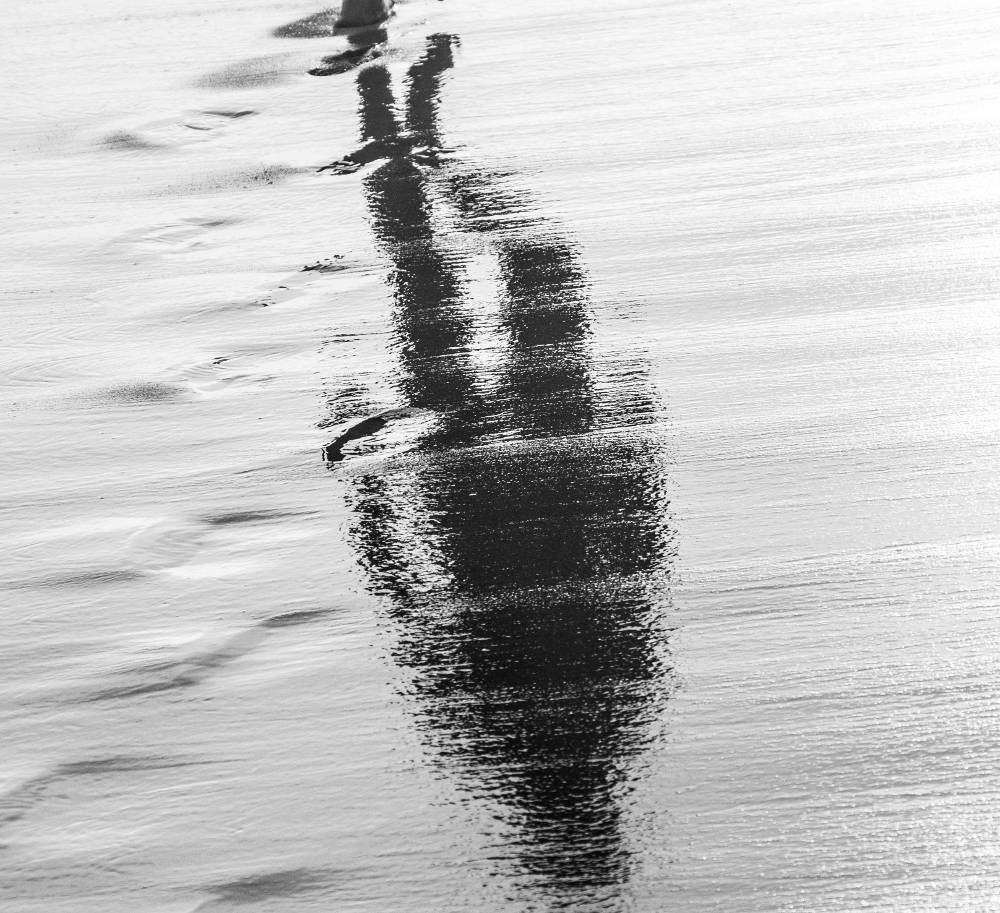 [By Tomas Castelazo / Wikimedia Commons, CC BY-SA 4.0 (Cropped from original)]
Dear friend,

Welcome to the fortnightly roundup of Aadhaar news and updates on The Aadhaar Effect and community engagement..

If you want to share it with your friend, you can forward it. If someone forwarded this to you, you can sign up here and get this straight in your inbox,

Feel free to get in touch with us.
News Roundup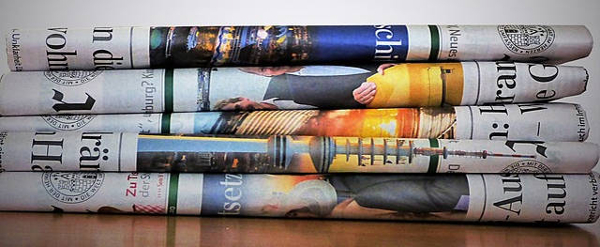 Know Your Candidate
State Bank of India's (SBI's) Yono app was interesting for more than one reason. It allowed individuals to open bank accounts without having to submit a single sheet of paper or having to visit a bank branch. Many found the app easy to use. It was an example of how even a state-owned, bureaucratic behemoth adapted itself to the digital age. However, if you go to its website today, this is what you will find.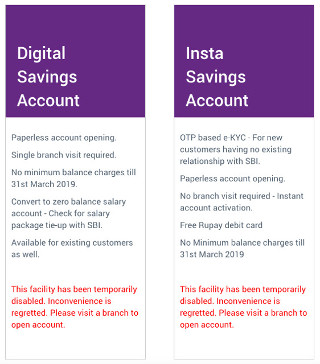 Now, if a customer wants to open an account, he has to visit the bank, fill forms—spending more time, energy and resources. Yono is just one example of how many finance and telecom companies had to shift to reverse gear after the Supreme Court verdict on Aadhaar. Telecom companies also took a few steps backwards to get back to arguably less secure, and definitely more expensive paper-based know your customer processing. (80% of that process is done, according to cellular association of India.)
Meanwhile, SBI is awaiting clarification from the Reserve Bank of India (RBI). And so are many fintech players. If RBI is looking to the government to pass new laws or orders, many say, that's unlikely. In the election season, ease of doing KYC is evidently not a top priority for the government. The candidates who are campaigning for your votes are unlikely to say vote for me, and I will make bank/telecom KYC process simpler.
Authentication Vs Identification
The Delhi High Court is hearing an interesting case on Aadhaar. A social activist has sought the court's help to make the government use Aadhaar to identify unidentified dead bodies. It's a serious issue that we have also raised in our book The Aadhaar Effect. The UIDAI told the court that it cannot be used for the purpose. Aadhaar was designed for authentication, and not identification—for both technological and privacy reasons. It is designed to match a given Aadhaar number against given biometrics and say "yes", if they match, and "no", if they don't. This limited functionality enhances its privacy. But it's also because of technological reasons. If one were to use the system for identification, for any biometrics, it will return a number of users, because its decisions are probabilistic. Sure, it can still be helpful, but it is better for the government not to venture into that territory for privacy reasons.
A big question among Aadhaar observers: how much can a person handle?
Ajay Bhushan Pandey is the CEO of UIDAI, chairman of the Goods and Service Tax Network (GSTN), and after the retirement of Hasmukh Adhia, on November 30, he will also become finance secretary. Given how important all three roles are, the consensus is that the government is likely to find another hand to run the identity programme.
The Big Themes
Designing Organisations for Innovation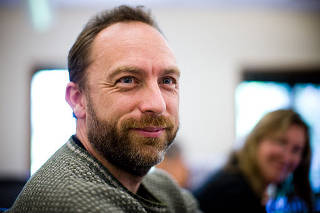 [By Joi Ito (CC BY 2.0), via Wikimedia Commons]
Those who are building collaborative networks might want to ponder over these words from a journalist who was a part of Wikipedia founder Jimmy Wales's year-old media venture Wikitribune:

"Features from staff reporters, including a few impressive exclusives, were often the most viewed and well-received articles on the platform. But they also routinely received the least amount of collaboration. Community members might occasionally edit for grammar, or offer feedback, but ultimately shied away from jumping into the copy in any substantive way."

Check out the thought provoking article in Columbia Journalism Review.
Technology for Development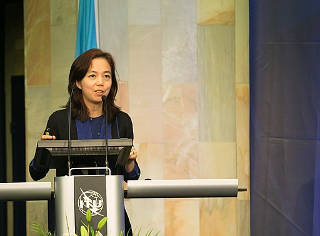 [By ITU Pictures (CC BY 2.0), via Wikimedia Commons]
A fascinating profile of Artificial Intelligence researcher Fei-Fei Li has this paragraph. The whole Wired article is strewn with such insights throughout.
"Deep learning systems are, as Li says, "bias in, bias out." Li recognised that while the algorithms that drive artificial intelligence may appear to be neutral, the data and applications that shape the outcomes of those algorithms are not. What mattered were the people building it and why they were building it. Without a diverse group of engineers, Li pointed out that day on Capitol Hill, we could have biased algorithms making unfair loan application decisions, or training a neural network only on white faces—creating a model that would perform poorly on black ones."
Book Updates
The Aadhaar Effect in Hindustan Times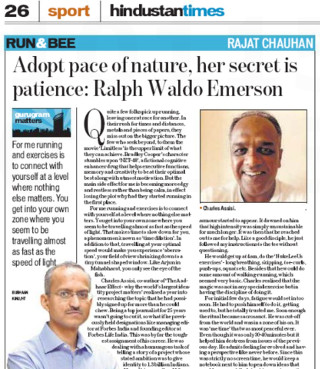 Of the many lessons that the authors NS Ramnath and Charles Assisi learnt while working on the taxing project on Aadhaar, perhaps the most important was how to keep oneself physically fit during the period. Physical fitness is deeply connected to mental fitness in ways that science hasn't explored yet. Charles had the good counsel of the wise doctor Rajat Chauhan. He featured Charles in his HT column.

In Dr Chauhan's words: "A year into writing The Aadhaar Effect: Why the World's Largest Identity Project Matters, Charles Assisi's toughest project ever, he wasn't able to keep up. Simple Nukeleeus exercises that helped him stay focused and calm."

He followed up on the contents of his column with a conversation with Charles on Facebook Live.
The Aadhaar Effect in Scroll
Scroll.in carried an extract of the book for its readers. The extract is titled 'Meet the Aadhaar naysayers, whose objection is that the system takes power away from the people'. It is from the sixth chapter that tells the story of how two streams of critics from development and technology came together to fight their big battle against Aadhaar in the Supreme Court. Read it here.
The book of course traces their journey further, and discusses how their activism also had unintended consequences, ultimately hurting some of the causes they were fighting for.
Thought Leaders: Rama Bijapurkar
Earlier this month, Indrajit Gupta and Charles Assisi stopped by at Rama Bijapurkar's home to present a copy of The Aadhar Effect. She was in the middle of sifting through a pile of books to short-list for the Tata Lit Fest. But she was happy to take time out to discuss Project Aadhaar. Bijapurkar sits on the Advisory Council of Founding Fuel and is one among the key voices policy makers and those in business take seriously. The three of them spent close to an hour discussing Aadhaar, the various protagonists in it, all of what could have been, and all of what can be. She had some tough questions as well. It was the kind of conversation that could have occured only with somebody who has operated at multiple intersections. Indrajit and Charles have asked her to write about her thoughts on the theme after she has finished reading the book. She has promised to do it.

Copies of The Aadhaar Effect have begun arriving at leading airport bookstores. Our readers sent us photos of the book prominently displayed at WH Smith India, at the international and domestic terminals at Delhi airport, and at Relay at T2 Mumbai International Airport departures.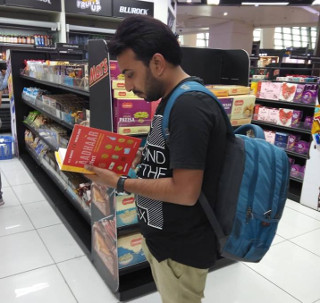 [At WH Smith India, at the international and domestic terminals at Delhi airport]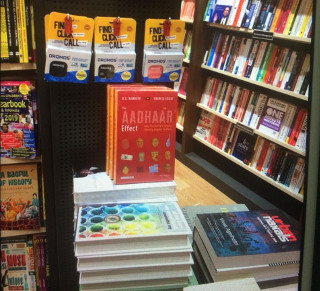 [At Relay at T2 Mumbai International Airport departures.]
Events and Workshops
Commits, Bangalore
NS Ramnath spoke to the first year students at Commits, a journalism school in Bangalore, over two sessions. Using the analogies of Hollywood movies and YouTube movies, the students explored the difference between a typical government project and Aadhaar. During the interactive session, the students used examples of other platforms they are familiar with—Uber, Netflix and Swiggy—to understand the advantages and disadvantages of Aadhaar.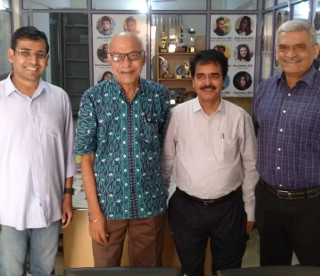 When he was at Commits Ramnath also ran into former editor in chief of Weekmagazine, TR Gopalakrishnan. Here is a photograph of him, TRG, Lakshmanan, a former journalist with Hindustan Times, and Ramesh, dean of Commits.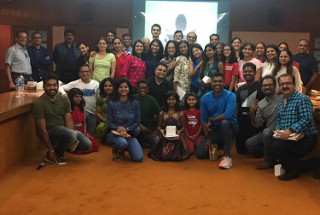 On a Sunday evening Charles engaged with members of Did You Read Today, in Mumbai. This club is an eclectic one and has over 3,600 members in the city. It started life as Did You Run Today with over 56,000 members across India who are passionate about running.
One year ago, the group's Mumbai chapter thought it may be a good idea if they engage with books and authors of every genre once every month, in much the same way they engage with sport. And so on November 18, they invited Charles to speak about The Aadhaar Effect.
Charles came back all charged up because he thought the audience one among the most receptive, and curious to know more. They had interesting questions to ask about the book and the process of writing. He told everyone on the team that the engagement with Did You Read Today was energising.
On his part, he has signed up with Did You Run Today for inspiration so he may lace up and get back to his long distance running days.