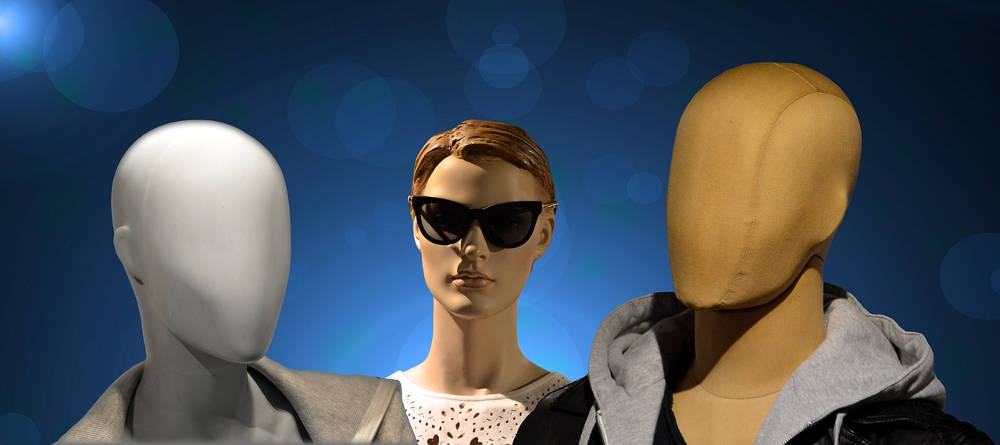 [From Pixabay]
Dear friend,
Welcome to the fortnightly roundup of Aadhaar news and updates on The Aadhaar Effect and community engagement..
If you want to share it with your friend, you can forward it. If someone forwarded this to you, you can sign up here and get this straight in your inbox.
If you missed them, you can catch up with the previous newsletters here.
Feel free to get in touch with us..
The Roundup
The government has started fixing laws to allow Aadhaar usage voluntarily: The five judge bench that passed the judgement on the constitutional validity of Aadhaar had closed the door for private players—including banks and telecom companies—to use UIDAI's biometric authentication platform. The Economic Times reported that the cabinet has approved amendments to laws that will clear the way for banks and telecoms to enrol new customers through Aadhaar-based KYC, if they voluntarily share their Aadhaar numbers. It's not clear whether this will allow them to do biometric authentication, or if they have to rely on arguably less secure, less privacy friendly, and definitely more complex alternatives such QR code or live video authentication, which the Reserve Bank of India is reportedly keen on.
Fintech players are worried about suspension of eSign-based eMandates: Moving from physical to digital reduces friction and costs, and allows more people to use a service. For long electronic signatures in India didn't really pick up, because it could be executed only with a dongle, which didn't smoothen the process. That changed after the introduction of Aadhaar-based eSign. Along with eKYC and Digilocker, it promised a paperless future. Fintech players loved it because it allowed for innovation. Many in the social sector saw its potential in financial inclusion. However, following the Supreme Court judgement, the National Payments Corporation of India (NPCI) has suspended eSign-based eMandates last month, because of regulatory fog. The government is seeking legal opinion on it, and startups are worried.
Adobe launches e-sign solution: Meanwhile, it has opened a window for big businesses to push their own solutions. In the previous newsletter, we saw the examples of Reliance, Microsoft and Mastercard. This time it's Adobe, with its own eSign product.
Facebook expands its 'real identity' business: Peter Thiel, one of the early investors in Facebook, says the company succeeded while many in the social networking space failed because it was in the 'real identity' business. One of the ways to look at some of the problems it faced in the recent past is that it failed to do the job of knowing the real identities well enough. To do that it tried collecting Aadhaar numbers in India, and financial data in the US earlier this year. As the 2019 general elections approach, Facebook is in the process of physically verifying the identity and location of political advertisers. Identity is a big business.
Will the real numbers stand up? Aadhaar critics don't trust the numbers the government gives on removal of ghost entries and savings through Aadhaar. Similarly, few outside the close circle of critics trust the surveys done by researchers inside those circles. Yet, that hasn't stopped a steady flow of numbers from both sides. In the last couple of weeks we saw numbers on weeding out of fake ration cards nationally, and savings from removing fake beneficiaries from the public distribution system in Maharashtra. A survey highlighted exclusion that is taking place in Jharkhand. That leaves a lot of space for non-ideological research on Aadhaar. One of the occupants of that space is The State of Aadhaar report, which was executed by IDInsight for the last two years, and will now be done by Dalberg.
The Big Themes
Privacy in a Data-Driven Future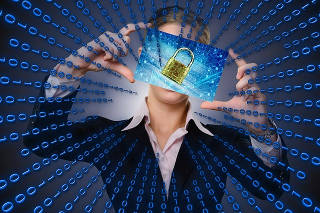 [From Pixabay]
In Technology Review, Martin Tisne argues that " 'data ownership' is a flawed, counterproductive way of thinking about data. It not only does not fix existing problems, it creates new ones. Instead, we need a framework that gives people rights to stipulate how their data is used without requiring them to take ownership of it themselves." Founding Fuel readers will find it resonates with Rahul Matthan's proposal to deal with privacy in a digital age.
Designing Organisations for Innovation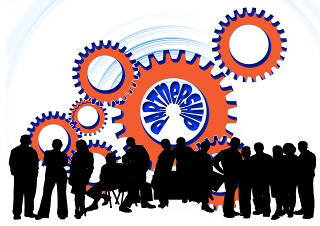 [From Pixabay]
In the Financial Times, Martin Wolf makes a case for rethinking the purpose of corporations that are right now focused too much on shareholders. "Shareholders are least committed, because, unlike employees, dedicated suppliers and the locations in which businesses operate, they can divest themselves of their engagement in the company in an instant. Shareholders are the least knowledgeable, because they are not engaged in the activity of the company."
Book Extract
Election Rhetoric and Real Actions
As we get into election season, pay close attention to what parties say in their manifestoes. Here's an extract from the book that tells you what one can glean from just reading the documents.
"Contrary to a popular perception that Modi was against Aadhaar—which is broadly based on a well-publicized tweet and the election rhetoric—Modi was for it, and it would have been evident if people looked at what he was doing in Gujarat, rather than what he was saying. Another equally popular perception about Modi is that he changed his mind about Aadhaar, and like a recent convert, pushed the pedal on it even faster than the Congress. But a far-reaching national identity cards programme was in the BJP's agenda long before Modi was considered a prime ministerial candidate. Its 2009 election manifesto—which had
photographs of A.B. Vajpayee, L.K. Advani, and Rajnath Singh on the cover—went far more in detail into the subject of National Identity card:
The BJP will launch an innovative programme to establish a countrywide system of multipurpose national identity cards so as to ensure national security, correct welfare delivery, accurate tax collection, financial inclusion and voter registration. Voter identity cards, PAN cards, passports, ration cards and BPL cards are already in use though not all with photo identity. The NDA proposes to make it incumbent for every Indian to have a National Identity Card. The programme will be completed in three years.
The National Identity Card will contain enough memory and processing capabilities to run multiple applications. Through it the NDA will ensure efficient welfare delivery and tax collection. The card will also be linked to a bank account. All welfare payments, including widow and old age pensions, through the wide range of schemes such as Mother and Child support/ Kisan Credit, Students Assistance and Micro-Credit will be channelised through the National Identity Card. The card will make it possible for individuals to save and borrow money; for farmers to get bank credit, also establish accurate land titles data.
The National Identity Card will also strengthen national security by ensuring accurate citizen identity, thus tracking illegal immigration. All financial transactions, purchase of property and access to public services will be possible only on the basis of the National Identity Card which will be made forgery and hacking resistant.
After he became prime minister, Modi was simply fulfilling the promise his party made to voters in 2009. Only, Aadhaar was not a card. It came in a much more flexible form."

Events
The Times Litfest, Mumbai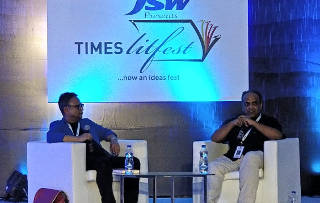 Charles Assisi participated at the Times Litfest on December 14 at Mehboob Studios in Mumbai. He discussed Aadhaar, social security and state surveillance with Gyan Prakash, Dayton-Stockton Professor of History at Princeton University in a tightly packed auditorium.
Relay Stores, Bangalore International Airport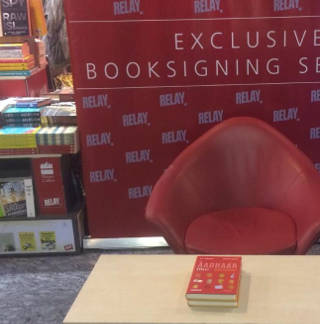 NS Ramnath participated in a book signing event at Relay Stores in Bangalore International Airport on Friday early morning at 5 a.m. He discovered two things. a) Not many people turn up to buy books at that hour (evening 4 p.m. to 8 p.m. is when it sees most footfalls and sales). b) The staff at the stores are an amazing bunch of people, ever helpful with broad smiles even at that hour.
End Note: If you liked reading this newsletter, please consider forwarding it to your friends and colleagues. If you have read the book, please do share your feedback with us.